Arts and Culture
Noli Me Tangere: The Opera and The Lost Art of Fan Gestures
Art by Dani Elevazo
When one speaks of Noli Me Tangere, it's easy to be reminded of our highschool Filipino classes. Noli Me Tangere is one of National Hero Jose Rizal's famed literary pieces that subtly exposed the tyranny of the Spanish government during its years of colonization in the country. We can also associate the novel with the story of love, betrayal, and hope, from how Sisa spirals to insanity in finding Crispin and Basilio to Padre Damaso's best-kept secret. And of course, one can also associate the novel with Maria Clara who has become the epitome of describing the ideal Filipina back then.
A lot of us may have taken the subject lightly back then, and having watched Noli Me Tangere: The Opera made us wish we did take the time to appreciate the class discussions on the subject more. But we're glad the opera version gave us another chance to fully immerse in the classic.

We were transported back in the time of the Spanish rule, where patriarchy reigns and women were either just catalysts to men's stories or mere characters in the background. Women weren't made to speak or stand out back then, but they are able to do so subtly, and Noli Me Tangere: The Opera made sure of that with the power of Fan Choreography.
The Abaniko or fans back then were not just a cooling accessory during warm days; it was also used as a communication tool for women and to attract additional attention through affectionate fan gestures. Because back then, you can't have intimate conversations with the opposite sex unless you're already married.

Here are a few fan gestures the OG dalagang pilipina used back then:
Holding the Fan
This means she's single and available.
Fans Furiously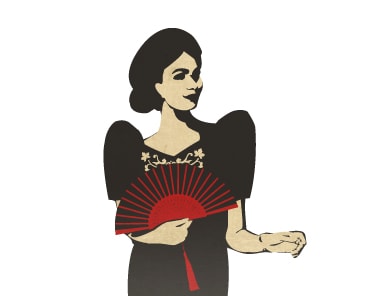 This means she's interested and actually gesturing you to come closer.
Closes the Fan Slowly
You lost her, she might be bored and not interested in you anymore. Yikes.
Gestures the Fan Down
Gesturing the fan down or even dropping it intentionally means you are already there. You gained her trust.
Closes the Fan Abruptly
A displeased look plus closing the fan in a haste motion could only mean she has had enough of your presence.
Holds the Fan Hanging
She can't be interested in you anymore because she's already committed one way or another—we bet betrothed.
Mheco Joy Manlangit who played Maria Clara in Noli Me Tangere: The Opera shared to Inside Manila a fan fact in the play—they were taught to learn the language of fan gestures as it plays a vital role for portraying traditional Filipinas. She shared how during Ibarra and Maria Clara's first meeting aka"Suyuan sa Asotea," Maria Clara used fan language to gesture to Ibarra her mutual interest.
Knowing the "Language of the Fan" may look playful, but it subtly reveals the oppressed customs and traditions set for women back then; to be conservative, shy, and to hold back on their freedom to express. Women have come a long way since then, and witnessing stage productions plays like Noli Me Tangere: The Opera motivate us not only to appreciate our classics more but to also reflect on our past to do better in the present, in service of the future.